The ancient city of Athens should be on any history and architecture buff's bucket list. If you are a fan of food and wine, especially the Greek cuisine, this is the place to be. Athens is Europe's seventh largest city. However, it lacks boutique luxury hotels. A77 Suites By Andronis is one exception.
The assemblage of A list accommodations is a member of the Small Luxury Hotels of the World Network (SLH), a network of more than 500 small, independent, luxury hotels in over 90 countries. Known for their unique accommodations, award winning spas, and acclaimed restaurants, each one is truly one-of-a kind, the SLH network includes more than 500 small hotels.
A77 Suites is located in Plaka, a desirable neighborhood that lies in the shadows of the Acropolis. This ancient and iconic citadel towers over the city. The building housing A77 Suites dates back to the early 19th century and boasts high ceilings, blue-painted shutters and classical Greek motifs and other architectural details denoting that it once belonged to one of the city's wealthiest families.
"The charm of old Athens is still palpable today, coming through in every little corner and every little nook of Plaka's alleyways," the hotel notes. "᾽Plaka᾽ literally means marble slab in modern Greek, and the etymology of the area's has been a subject of controversy amongst historians. According to popular opinion Plaka was named after the word 'old' in a long-standing yet almost extinct dialect."
A77 Suites' neoclassical building, which now houses the city's chicest clothing boutique on its ground floor, has been restored to its former glory and transformed into a "state-of-the-art collection of luxurious suites that boast minimalist design and exquisite materials…. characterized by exceptional finesse and embodying the everlasting Athenian aesthetic."
Marble, wood and brass are used as decorative elements in the interiors. Modern art adds contrast and modern flair. There are 12 luxury suites in all, designed to be an "urban sanctuary that immerses you into a tale of tangible history" and "revives the city's neoclassical soul."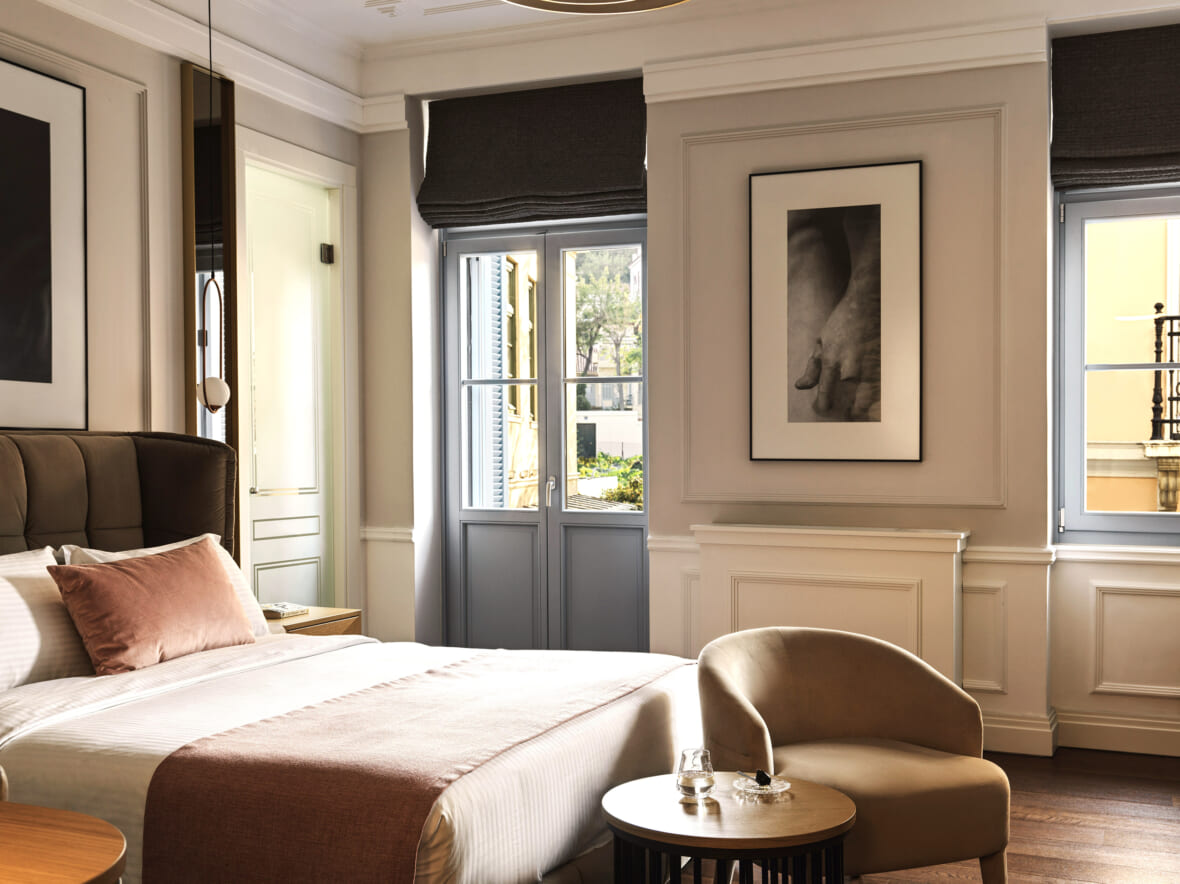 In addition to "bridging the past and present of Athens," A77 Suites also "aspires to fully embody the ancient Greek hospitality ideal which prescribed that hosting guests must be both a pleasure and duty." Hence they are treated not as strangers, "but with heartfelt care as if they were the closest of friends."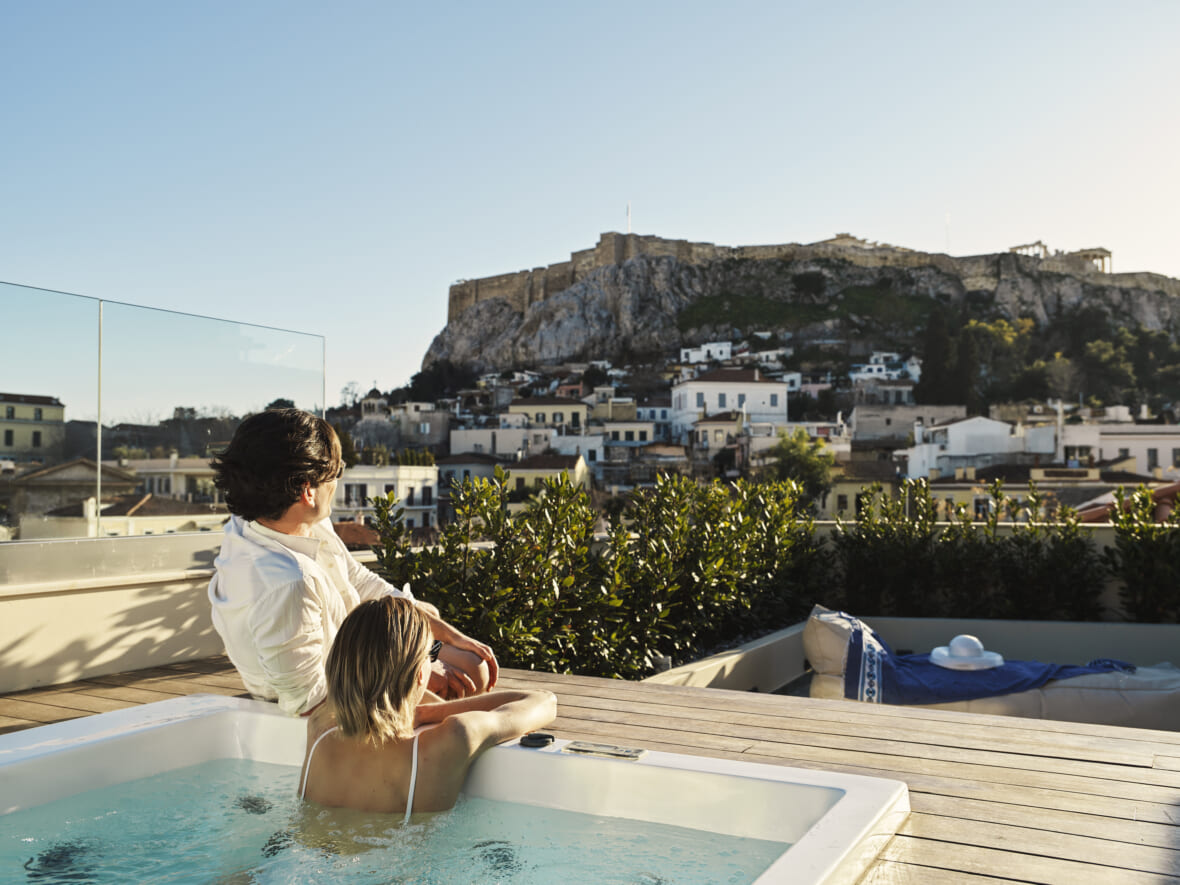 The Courtyard Suite and the Iconic Suite are our two favourite suites. The Courtyard Suite has a private outdoor terrace that is fully furnished with a Jacuzzi. This suite offers spectacular views of the Acropolis. The walk-in rain shower isn't half bad either.
The Courtyard Suite, with its stone walls and floors and wooden-beamed ceiling, gives the impression of living in an old time capsule. The Courtyard Suite features a large furnished courtyard, which acts as an outdoor living space. It opens from the main area to create an atmosphere of privacy and comfort. It also has a walk in rain shower.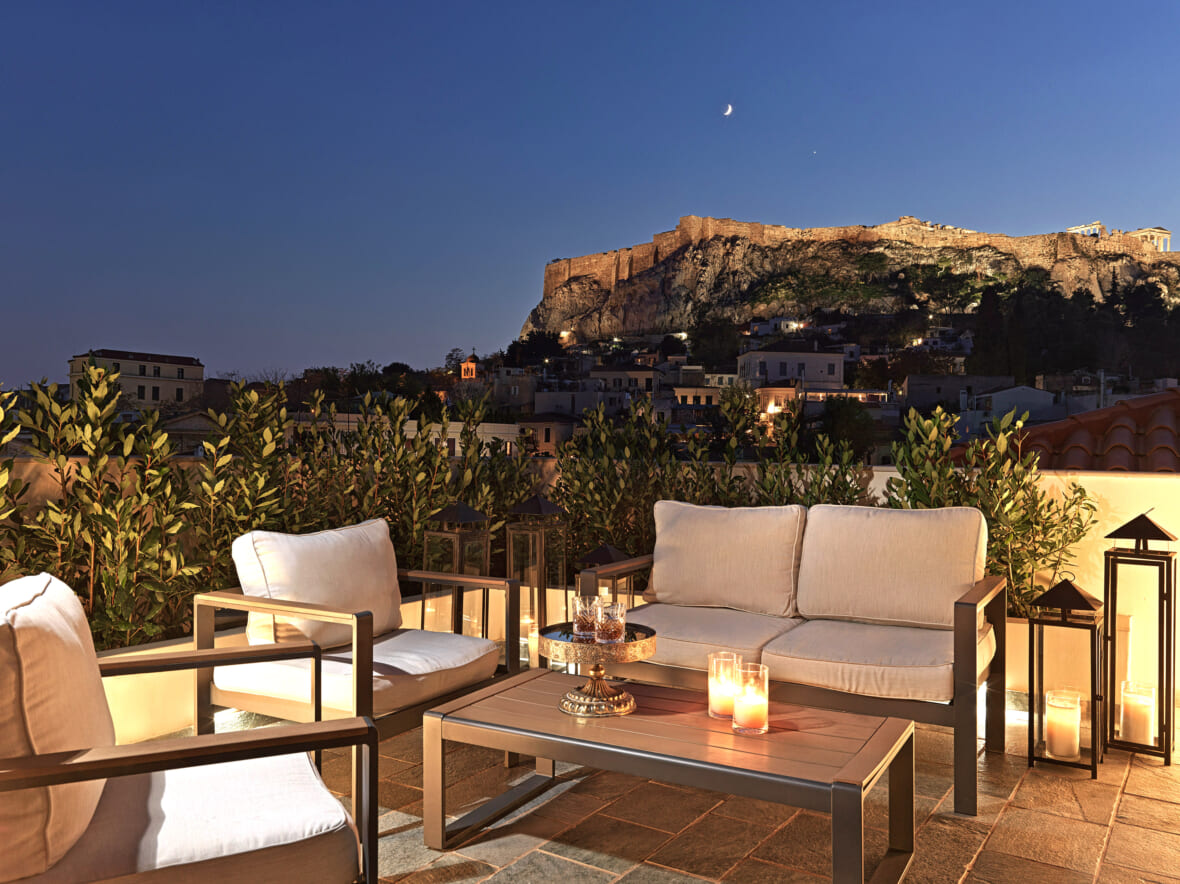 Yes Athens has large, crowded luxury hotels with all the five-star amenities you'd expect. None of these luxury hotels offer the same elegance, charm, and feel as visiting a private residence. A77 Suites does. And it's place in Plaka means that all of the city's best restaurants and shops are a literal stone's throw away.
Cocktails in the courtyard, anyone…?
Article: www.maxim.com