California's historic snowpack has damaged another two "crucial wilderness trail bridges" in the Sierra, leaving John Muir Trail and Pacific Crest Trail thru-hikers wondering if they'll be able to access miles of their hikes.
In a release on Thursday, Sequoia and Kings Canyon National Parks said staff were beginning to assess damage to both the Woods Creek Bridge and the San Joaquin Bridge in the Kings Canyon Wilderness. According to the National Park Service, both bridges are too damaged to cross, and neither Woods Creek or the South Fork of the San Joaquin River are safe to ford at those spots.
"As conditions allow the park to assess more trails, more damaged trail structures are likely to be discovered," the NPS said. "Wilderness travelers should be prepared for the possibility that streams and rivers may be extremely hazardous to cross due to high water or damaged infrastructure, and this may be true late into the season. In addition to water hazards, backpackers and stock users should expect snow and ice in the high country, and plan backup routes if intended routes are not safely passable."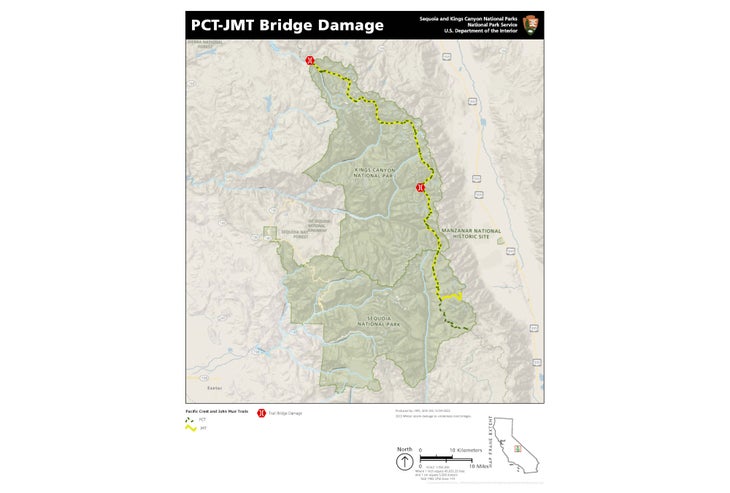 In addition to being important for PCT and JMT hikers, the Woods Creek Bridge is an important crossing on the popular Rae Lakes Loop. The photogenic wooden suspension bridge is a common subject of hikers' snapshots and Instagram posts. The park service has not shared a timeframe for it or the San Joaquin Bridge to reopen. A third bridge on the Middle Fork of the San Joaquin River is also out of order.
The Sierra Nevada received 279 percent of its average snowpack this year, leaving bridges in the alpine damaged and swelling creeks with snowmelt. In the past, that has proven a dangerous combination for some thru-hikers, who may feel pressured to chance risky crossings rather than turn back. Backpackers have drowned in high creeks such as in 2017, when two thru-hikers died within a week of each other in California.
Ned Kelleher, Sequoia and Kings Canyon's chief ranger, urged hikers to use caution.
"This year, even streams we didn't think twice about crossing in past years have become raging rivers capable of knocking someone off their feet," he said. "People in the wilderness need to be prepared to change their plans or turn around if they're presented with a hazardous crossing. It's not worth the risk." 
The post Crucial Bridge Closures in the Sierra Could Force Pacific Crest and John Muir Thru-Hikers Off the Trail appeared first on Backpacker.
Crucial Bridge Closures in the Sierra Could Force Pacific Crest and John Muir Thru-Hikers Off the Trail